The eastern part of the Doon is intriguing, and full of birding rewards. This is where the valley narrows down and the dense Sal forests of the Shivalik Hills meet the mixed forest of the lower Himalayas. The land here slopes gently down towards the Ganga as the river flows out of the mountainous gorges, becoming wider and gentler. As such, there are two distinct parts to this area of the valley. Thano is primarily undulating Sal (Shorea robusta) forest, bordered by farmlands. While Maldevta is second one.
To get to Thano, one must follow Raipur Road, accessed via EC (Eastern Canal) Road. After passing the Ordnance Factory and DRDO's Instrument Research and Development Establishment, the road narrows at Raipur village. Some buildings here date back several centuries, with frescoes on the walls. These paintings in the most part have been well preserved, though some are faded. These old havelis are also worth exploring if time permits.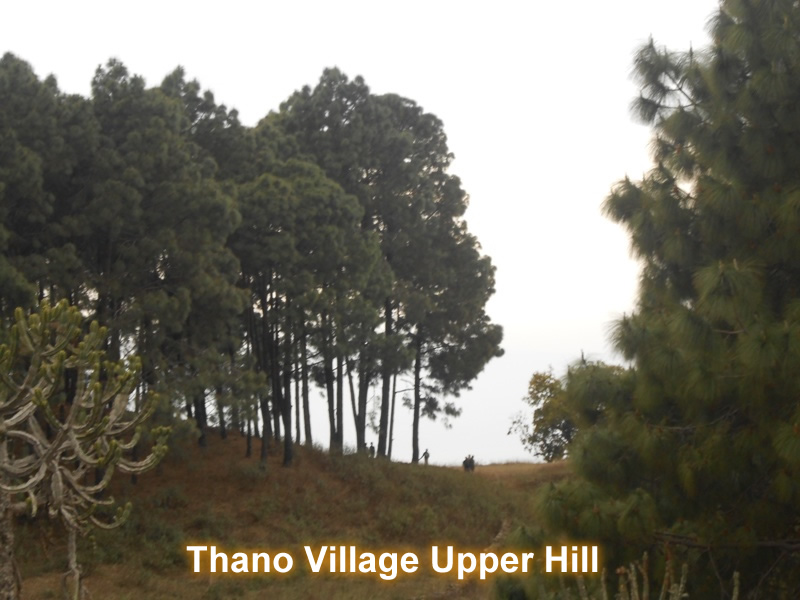 At the far end of Raipur village, at a Shiv temple under a Banyan tree, is a busy road junction and a confusion of shops and dhabas. The narrow road that goes straight through past the shops and buildings leads on to Thano. Further down the road, past the Uttarakhand Sports College, farmland gives way to extensive tracts of riverine scrub characterized by Bombax ceiba and Acacia catechu trees. There is also much Lantana undergrowth. This open forest is worth spending some time in to look for raptors. Oriental Honey Buzzard is common. Scan the treetops and one might also come across Crested Serpent Eagle, Egyptian Vulture and Red-headed Vulture. In the winter, Eurasian Griffon, Steppe Eagle, Eurasian Sparrowhawk, Common Kestrel and Northern Goshawk may be found. Red Junglefowl may be seen feeding at the road edges. Jackal and Wild Boar are common, with some Civet as well.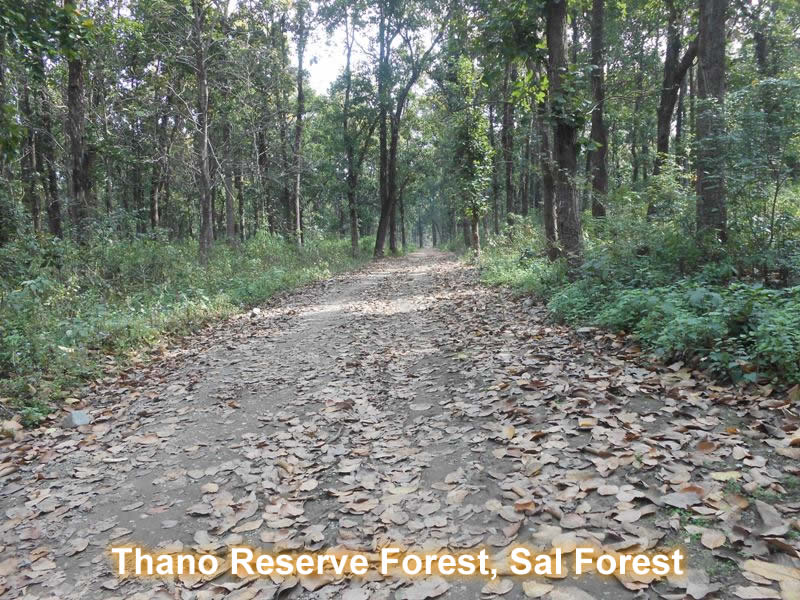 Moving on from this area, the road crosses over to the left bank of the Song river, via a long bridge, at the end of which is a toll barrier. Across this bridge, the riverine scrub continues and eventually gives way to farmland. These open fields, usually with wheat or paddy in the monsoon and winter, are good for Grey Francolin and Black Francolin. Indian Rollers often sit on the telephone and electric wires here and there is a chance of spotting Paddyfield Pipit. After Barasi village, Thano RF begins. This beautiful forest consists of tall Sal trees with 'Ruini' (Mallotus philipensis) and Curry-leaf trees (Murraya koenigii) dominating the undergrowth. Thano RF was once a shooting block, and after the Wildlife Act 1972 became a Reserved Forest.
Just before entering the RF, one sees that parts of the farmland have solar-electric fencing (albeit, in various states of disrepair). Indeed, in the summer and monsoon, the areas is at times used by elephants from nearby Rajajji NP. It is wise to ask the locals in Barasi about the presence of elephants before venturing into this area. The forest also has leopard, wild boar and barking deer, seen in the early morning – and the odd peripatetic tiger.
As this areas was last logged for timber back in the mid-1800s, the Sal trees here have reached truly magnificent proportions, rarely seen elsewhere. As a result, Sal forest here is good for woodpeckers. Black-rumped Flameback, Himalayan Flameback, Greater Flameback, Grey-headed Woodpecker, Streak-throated Woodpecker, Scaly-bellied Woodpecker, Greater Yellownape and Fulvous-breasted Woodpecker are all here. Amongst smaller species, there are Yellow-crowned Woodpecker, Brown-capped Pygmy Woodpecker and Grey-capped Pygmy Woodpecker. Surely a place to plug any woodpecker-related holes in one's bird list!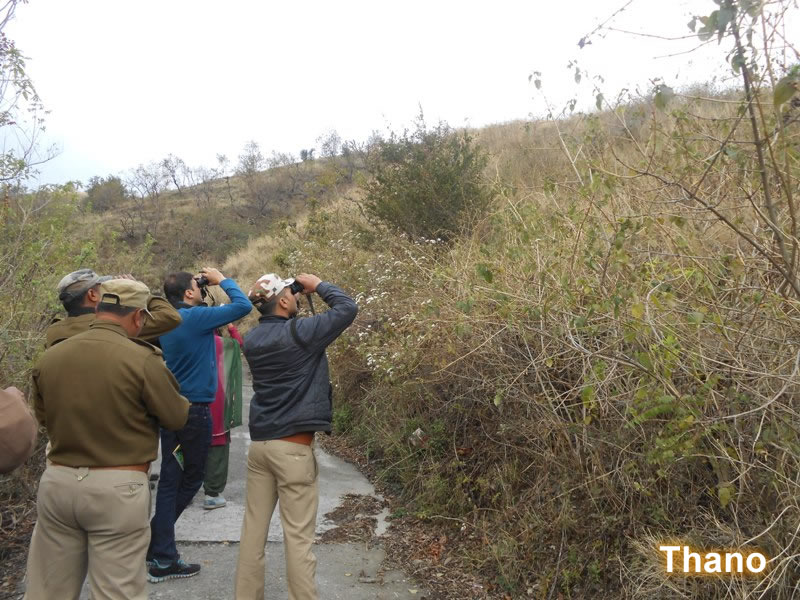 Also, often seen in these parts are Black-headed Oriole, Maroon Oriole, Golden Oriole Indian Pitta, Yellow-bellied Fantail, Common Woodshrike and Drongo Cuckoo. Red Collared Doves often forage here for food on the forest floor and rocket up at impressive speeds into the canopy when approached.
At the eastern end of the RF, one re-enters farmland at Thano village. Here, there is an old Forest Rest House (FRH), worth staying in for those exploring the area. Recent renovations include modern, clean bathrooms. Reservations are via DFO-Dehradun. The lawns are quite large and there are a few Banyan trees around which, when they are in fruit attract Coppersmith Barbet, Brown-headed Barbet, Lineated Barbet and occasionally Orange-bellied Leafbird. There is a nice walk that starts out at the back of the FRH grounds and leads up a shallow slope towards a an area of terraced fields in the upper part of Thano village. At the far end of the village, a small stepped path leads to a partially ruined old temple and 'baori' (step-well) of indeterminate age.
The road passing Thano village extends on through mixed scrub forest, farmland and eventually meets with the Dehradun-Rishikesh highway just ahead of Rani Pokhri, via Bhogpur. A part of this road passes through a patch of typical riverine vegetation consisting of thin Shisham (Dalbergia sisoo) and Khair (Acacia catechu) where there is a decent chance of seeing Sirkeer Malkoha.
A point near the long bridge over Jakhan Rao (which originates near Rajpur, below Mussoorie) is used to skin dead cattle. This is a great place for vultures, including Eurasian Griffon and Himalayan Griffon, and Egyptian Vulture and Cinereous Vulture. The now critically-endangered White-rumped and Long-billed Vulture may also be seen here, hence it is worth looking for them in the area. This road is also an interesting alternative to NH-72 for those who headed to the temple towns of Rishikesh and Haridwar, or to Rajaji NP via Kunnao Barrage.