ASAN CONSERVATION RESERVE BIRD WATCHING
Watching birds suburb wetland of river Yamuna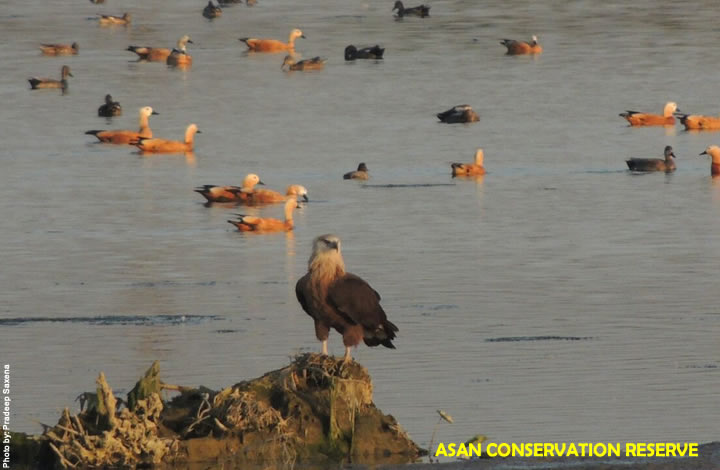 The Asan Conservation Reserve (400 m) in Dehradun district at the bank of river Yamuna is India's first conservation reserve, established in 2005. It covers 4.5 sq.km. area, this is situated at the junction of the Yamuna and Asan rivers. The Asan river is a river fed by the streams of the western part of the Doon valley. The northern section of the river is known locally as the 'Tons nadi' (a misnomer, the actual Tons nadi is much larger and flows into the Yamuna in the Jaunsar Bawar region at Kalsi); originates from the southern slopes of Mussorie. There are several streams here, Asan is listed as an Important Bird Area (BNHS and BirdLife International). Its is popular for winter migrated birds.
BIRDS OF ASAN CONSERVATION RESERVE
As per the records, more than 250 bird species including 80 water birds were recorded. It is marked by presence of Brahminy ducks, Rudely Shel duck, Dabbling Duck, Diving Duck. Birds; Herons, Egrets, storks, Ibises are Geese, which are seen during winter season (Nov to Feb)
Discover the captivating beauty of Asan Conservation Reserve, a pristine haven nestled amidst breathtaking landscapes. Located at the heart of environmental stewardship, Asan Conservation Reserve is a sanctuary dedicated to safeguarding the rich biodiversity of its ecosystem. Immerse yourself in the tranquility of lush forests, glistening water bodies, and diverse wildlife, all harmoniously coexisting within this sanctuary. Whether you're a nature enthusiast, a birdwatcher, or simply seeking solace in the arms of Mother Earth, Asan Conservation Reserve offers an unparalleled opportunity to connect with nature in its purest form. Join us in our commitment to conservation, as we strive to protect and sustain this natural treasure for generations to come. Embark on an unforgettable journey of exploration and preservation at Asan Conservation Reserve – where nature thrives and memories flourish.
Images by: Pradeep Saxena
By road, Dehradun – Herbertpur (30Km)-Asan CR (8km). Coming from Paunta Sahib (Himachal), just take a drive of 7 km to reach the Asan.
280 to 1000 m, Chilla (350m), Phanduwala (730m), Patna vilalge (531m)
Private Camps, Cottages, Resorts, FRHs, Motichur,  Phanduwala, Kasrao, Ranipur, Beribara, GMVN Chilla and several others.