RAJAJI NATIONAL PARK BIRD WATCHING
Watching birds in elephant country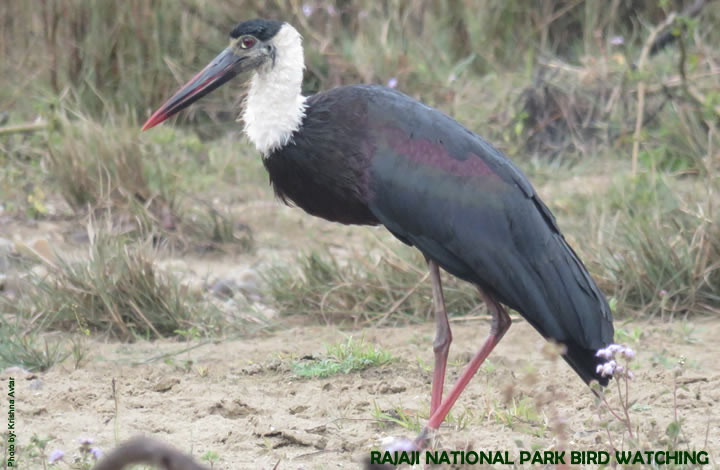 The Rajaji National Park covers an area of 1075 sq.km. is located in the Shivalik, which are formed from the debris of the main Himalayas. The shaggy ridgelines of these hills are interspersed with rocky river beds. While the high ridges are dotted with chir pine, the undulating lower ridge forests have mixed tropical deciduous forests and flatter areas have Sal forests, Large rivers (raus) have water only in the monsoons, while smaller, shaded stream (sots) occasionally retain water in summer. Rajaji harbors at least 311 species, of which several are altitudinal and latitudinal migrants such as warblers, waders, ducks and flycatchers descending into the Shivalik during winter. Shivaliks are important breeding ground for endangered birds including Great Hornbill, Pallas Fish Eagle, River Lapwing ad Vulture species . Rajaji is listed as an important Bird Area by BNHS and Bird Life International.
Know More about Rajaji Bird Watching Areas

BIRDS OF RAJAJI NATIONAL PARK
Alexandrine Parakeet, Alpine Swift, Ashy Bulbul, Ashy Crowned Sparrow Lark, Ashy Drongo , Ashy Prinia, Asian Barred Owlet, Asian Brown Flycatcher, Asian Koel, Asian openbill stork, Asian Palm-Swift, Asian Paradise-Flycatcher, Asian Pied Starling, Bank Myna, Bar headed Goose, Bar tailed Treecreeper, Bar winged flycather shrike, Barn Owl, Barn Swallow, Barred Buttonquail, Baya Weaver, Bay-backed Shrike, Black Bellied Tern, Black bulbul, Black Drongo, Black Francolin, Black Headed Bunting,Black Headed Gull, Black headed Ibis,Black Headed Jay, Black headed Oriole, Black Ibis, Black Kite, Black Lored Tit, Black necked stork, Black Redstart, Black shouldered kite, Black stork Ciconia nigra,
Black tailed Godwit,Black-chinned Babbler, Black-crested Bulbul, Black-crowned Night-Heron, Black-headed Cuckoo-shrike, Black-rumped Flameback, Black-winged stilt, Blue Rock pigeon, Blue Rock-Thrush, Blue Whistling thrush, Blue-Bearded Bee-eater, Blue-tailed Bee-eater, Bluethroat, Blue-throated Barbet, Blue-throated Flycatcher, Blyth's Leaf warbler, Blyth's Reed warbler, Bonellis Eagle, Booted Eagle, Brahminy Starling, Bronze winged Jacana, Bronzed Drongo,Brooks's Leaf warbler, Brown crake, Brown Fish-Owl, Brown headed Barbet, Brown Rockchat, Brown Wood owl,Brown-capped Pygmy Woodpecker, Brown-fronted Woodpecker, Brown-headed gull, Cattle egret, Changeable Hawk-Eagle, Chestnut Bellied Nuthatch, Chestnut Crowned Warbler, Chestnut Tailed Starling, Chestnut-headed Bee-eater, Chestnut-shouldered Petronia, Chukar, Cinereous Vulture
Citrine wagtail, Clamorous Reed warbler, Collared Falconet, Collared scops owl, Comb Duck, Common babbler, Common Chiff chaff, Common Coot, Common greenshank , Common Hawk Cuckoo, Common hoopoe, Common Iora, Common Kestrel, Common kingfisher, Common Merganser, Common Moorhen, Common Myna, Common Pochard, Common Redshank, Common Rosefinch, Common sandpiper, Common snipe, Common Starling, Common Stone Chat, Common Tailorbird, Common Teal, Common Wood-Pigeon, Common Woodshrike, Coppersmith Barbet, Cotton Pygmy-Goose, Crested Bunting, Crested Kingfisher, Crested lark, Crested Serpent-Eagle,Crimson Sunbird, Crow Billed Drongo, Dark sided thrush, Dark-throated Thrush, Darter, Desert Wheatear, Dollar bird 
Drongo Cuckoo, Dusky Crag-Martin,Egyptian vulture, Emerald Dove, Eurasian Blackbird, Eurasian Collared Dove, Eurasian Crag Martin, Eurasian Cuckoo, Eurasian golden-oriole, Eurasian Griffon, Eurasian marsh harrier, Eurasian Sparrowhawk, Eurasian Spoonbill, Eurasian Thick Knee, Eurasian Treecreeper, Eurasian Wigeon , Eurasian Wryneck, European Roller,Ferruginous Pochard, Fulvous-breasted Woodpecker, Gadwall, Gargeny teal, Glossy ibis, Golden Fronted Leafbird,Golden-spectacled Warbler, Great Barbet, Great Cormorant, Great Crested Grebe, Great Egret, Great Hornbill, Great Slaty Woodpecker, Great Thick Knee, Great tit, Great White Pelican, Greater Coucal, Greater Flameback, Greater Painted Snipe, Greater Short-toed Lark, Greater Spotted Eagle, Greater Yellownape, Green backed Tit 
Green Bee-eater, Green sandpiper, Greenish Warbler, Grey bellied Cuckoo, Grey Breasted Prinia, Grey Bushchat, Grey Francolin, Grey Heron, Grey Necked Bunting ,Grey Nightjar, Grey Treepie, Grey wagtail, Grey winged Blackbird, Grey-backed Shrike, Grey-capped Pygmy Woodpecker, Grey-headed Fish-Eagle, Grey-hooded Warbler, Greylag Goose, Heuglin's Gull, Himalayan Bulbul, Himalayan Flameback, Himalayan Griffon, Himalayan Woodpecker, Hodgson's Bushchat, House Bunting, House crow, House sparrow, House Swift, Hume's Warbler, Indian Bushlark, Indian Cormorant, Indian Cuckoo, Indian Grey-Hornbill, Indian Nightjar, Indian peafowl, Indian Pitta, Indian Pond heron, Indian robin, Indian Roller, Indian Silverbill,
Indian Spotted Eagle, Intermediate Egret, Jack Snipe, Jungle babbler, Jungle Bush Quail, Jungle Myna, Jungle Owlet, Jungle Prinia, Kalij Pheasant, Kentish Plover,Lammergeier vulture, Large Cuckoo-shrike, Large Grey Babbler, Large hawk Cuckoo, Large-billed Crow, Large-tailed Nightjar, Laughing Dove, Lemon-rumped Warbler,Lesser Whistling-Duck, Lesser Whitethroat, Lesser Yellownape, Lessor Racket Tailed Drango, Lineated Barbet, Little cormorant, Little Egret Little Forktail Little Grebe, Little Heron, Little Pied Flycatcher Shrike, Little Ringed Plover, Little Stint, Long tailed shrike, Long-billed Pipit, Long-billed vulture, Long-tailed Minivet, Mallard, Marsh Sandpiper, Merlin, Mountain Hawk-Eagle,
Mountain Scops owl, Northern House Martin, Northern Pintail, Northern Shoveller, Olive-backed Pipit, Orange Bellied leafbird, Orange flanked Bush robin, Orange-breasted Green Pigeon, Orange-headed Thrush, Oriental Cuckoo, Oriental honey buzzard, Oriental Magpie robin, Oriental Pied-Hornbill, Oriental Scops Owl, Oriental Skylark, Oriental Turtle-Dove, Oriental white-eye, Ortolan Bunting, Osprey, Paddyfield Pipit, Painted stork, Pale Billed Flowerpecker, Pallas's fish Eagle, Pallas's Gull, Peregrine Falcon, Pheasant tailed Jacana, Pied Bushchat, Pied Cuckoo, Pied Kingfisher, Plain leaf warbler, Plain Martin, Plain Prinia, Plumbeous Water-Redstart, Plum-headed Parakeet, Puff-throated Babbler, Purple Heron, Purple Sunbird, Purple swamphen, Red Avadavat, Red billed Leiothrix, Red Breasted Parakeet.
Red crested Pochard, Red Headed Bunting, Red Junglefowl, Red-billed blue Magpie, Red-collared Dove, Red-headed vulture, Red-rumped Swallow, Red-throated flycatcher, Red-vented bulbul, Red-wattled Lapwing, Red-whiskered Bulbul, Richard's Pipit, River Lapwing, River tern, Rose ringed Parakeet, Rosy Minivet, Rosy Starling, Ruddy Breasted Crake, Ruddy Shelduck, Ruff, Rufous Treepie, Rufous Woodpecker, Rufous-bellied Niltava, Rufous-Gorgeted Flycatcher, Rufous-tailed Lark, Rufous-tailed Shrike, Russet Sparrow, Sand Lark, Savanna Nightjar, Scaly bellied Woodpecker, Scaly-breasted Munia, Scarlet minivet, Shikra, Short-toed Snake Eagle, Sirkeer Malkoha, Slaty Breasted Rail, Slaty-backed Flycatcher, Slaty-blue Flycatcher, Slaty-headed Parakeet, Small minivet.
Small Niltava, Small Paratincole, Spangled Drongo, Speckled Piculet, Spot-billed Duck, Spotted Dove, Spotted Owlet, Spotted Redshank, Spot-winged Starling, Steppe eagle, Stork Billed Kingfisher, Streaked Laughingthrush, Streak-throated Swallow, Striated Laughingthrush, Sulphur-bellied Warbler, Tawny pipit, Temminck's Stint, Thick Billed flowerpecker, Tickell's Blue-Flycatcher, Tickell's Leaf-Warbler, Tickell's thrush, Tree Pipit, Tufted Duck, Tytler's leef warbler, Ultramarine Flycatcher, Variegated Laughingthrush, Velvet fronted Nuthatch, Verditer Flycatcher, Wallcreeper, Western crowned warbler, Whiskered Tern, White Bellied drongo, White Browed fantail, White browed wagtail, White rumped needletail, White Rumped vulture, White Throated King Fisher, white wagtail. 
White-Breasted Waterhen, White-browed Scimitar Babbler, White-capped Bunting, White-capped Water-Redstart, White-crested Laughingthrush, White-eyed Buzzard, White-naped Woodpecker, White-rumped Shama, White-tailed Rubythroat, White-tailed Stonechat, White-throated Fantail, White-throated Needletail, Winter wren, Wire tailed swallow, Wood Sandpiper, Wood Snipe, Woolly-necked Stork, Yellow eyed babbler, Yellow wagtail, Yellow-bellied Fantail, Yellow-breasted Greenfinch , Yellow-Crowned Woodpecker, Yellow-Footed Green-Pigeon, Yellow-legged Buttonquail, Zitting Cisticola, etc,
RAJAJI NATIONAL PARK BIRDS GALLERY
By road, you can come first Haridwar city or Rishikesh. from Rishikesh a scenic motorable road running along the canal, exists all the way to Chilla (through Kunao Gate). Route: Rishikesh-Ganga Bhogpur-Chilla (30 min. drive). Alternately one can approach via Haridwar-Chandi Devi Mandir-Chilla (10 min. Drive). Buses ply from Haridwar and Rishikesh to Chilla.
Private Camps, Cottages, Resorts, FRHs, GMVN Guest House