THANO AND MALDEVTA BIRD WATCHING
Birding in Eastern Doon Valley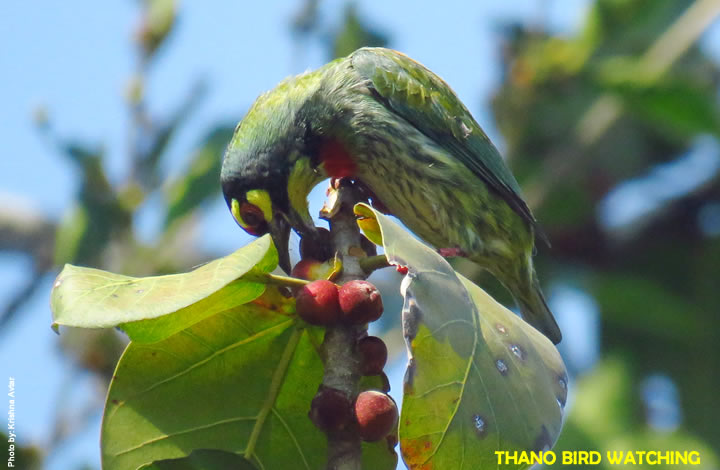 Thano lies in the eastern part of the doon valley is thickly forested with Sal-mixed forests of the Shivaliks hills Himalaya It is combination of riverine forest, agricultural fields, scrub jungle, and orchards which increase the diversity of birds.
Surrounded by dense forests, with Queen of the Hills, Mussoorie and the gentle sound of flowing river in the backdrop, the picturesque Thano range offers an ideal offbeat travel destination for people who want to experience calm and peace. Away from the hustle and bustle of the city, Thano village has a very little population with agriculture being the main occupation.  You can hike and birding to the quaint village temple and chit chat with the locals.
It is near to Rishikesh(25 km) and easily accessible by road.
BIRDS OF THANO AND MALDEVTA
Common tailor bird, plum headed parakeet, white capped bunting, long tailed minivet, black lored tit, fire brested flowerpecker, greater flame back Wedge tailed Green Pigeon, Greater Yellownape, Great Slaty Woodpecker, Crested Kingfisher, Indian Pitta, Sirkeer Malkoha, Maroon Oriole, Orange-bellied Leafbird, Wallcreeper, rock Bunting, Green-Tailed Sunbird, Lesser golden back, velvet fronted nutatch etc 100s of birds found in Thano
By road, 20 km by road from Ramnagar, a road left turn from Bailparao town. Just drive 4 km more.
Thano at 600 m and Maldevta around 900 m

Home Stays, FRH and some private camps

Glimpses of 5th Uttarakhand Bird Festival 2018 at Thano