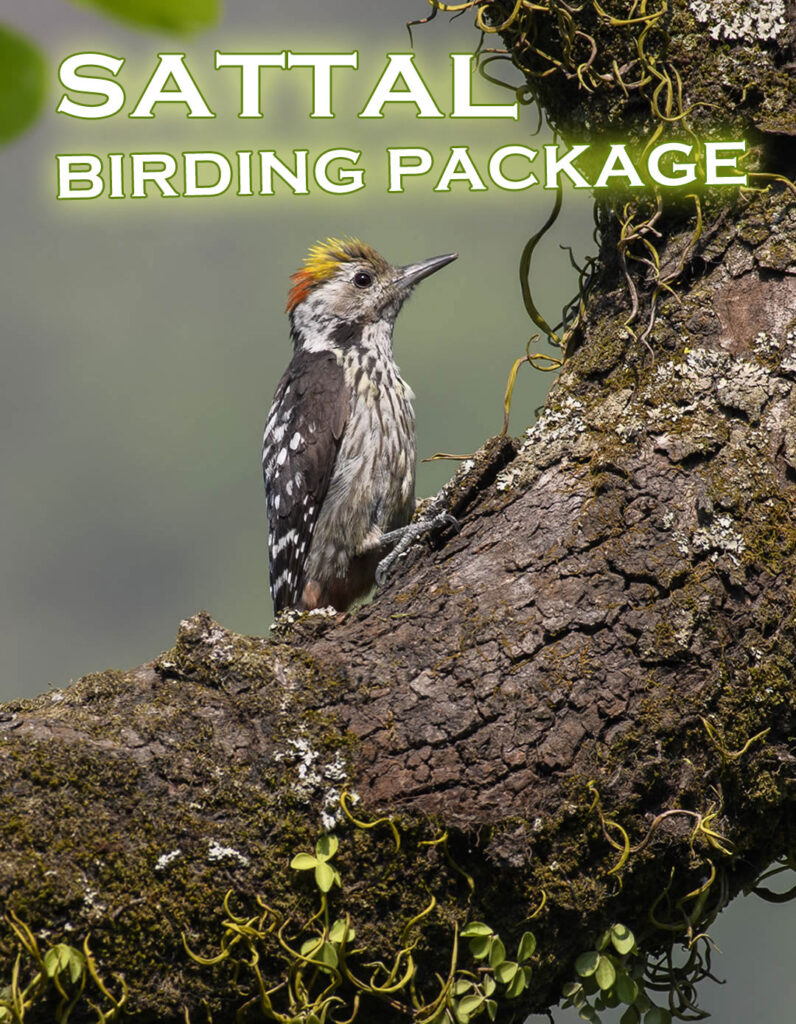 Duration: 6 Days / 5 Nights
Departures Dates: 8 November, 22nd November , 22nd December 2023

Locations Covered: Sattal, Chanfi, Ramgarh, Shyamkhet, Pangot
The standard timing for each session will be:
Morning – 06:30- 10 hrs.
Evening – 15-18 hrs.
Between these sessions, the lunch and rest would be around stay place.
Spring and Summer is a great time to be here, as many thrushes' visits and also beautiful small birds from Higher Altitude. We will also look for Owls.
The lake has an altitude of 1370 meters. Sattal is unique for its biodiversity and ecological amplitude. It has 250 species of resident and migratory birds, 20 species of mammals, over 100 species of butterflies and over many species of moths, beetles, bugs and other insects. A combine tour of Pangot-Sattal is appropriate for best birding experience.
Birds found in Sattal – Pangot
Green-tailed Sunbird, Eurasian Griffon, Red-billed Blue Magpie, Grey-Capped Pygmy Woodpecker, Lesser Yellownape Woodpecker, Blue-throated Barbet, Plum-headed Parakeet, Slaty-headed Parakeet, Chestnut Bellied rock Thrush, Tits, Babblers, Asian Barred Owlet, Brown-capped pygmy Woodpecker, Brown-fronted Woodpecker, Sclay Bellied Woodpecker, Rufous-bellied Woodpecker, Himalayan Woodpecker, Greater Yellownape Woodpecker, Streak-throated Woodpecker, Grey-headed Woodpecker, Scaly-bellied Woodpecker, Common Flameback Woodpecker, Himalayan Woodpecker, Gray Treepie Blue Whistling-Thrush, Lammergeier, Himalayan Griffon, Crested Serpent Eagle, Flycatchers, Cheer Pheasants, Kalij Pheasant, Koklas Pheasants, Dollarbird, Orange Bellied Leaf Bird, Crested Kingfisher, White-throated Kingfisher, Pied Kingfisher, Common Kingfisher, Blue-eared Kingfisher, Himalayan Kingfisher, Black-throated Sunbird, Crimson Sunbird, Fire-tailed Sunbird, Purple Sunbird, Thick-billed Flowerpecker, Plain-leaf Flowerpecker, Fire-breasted Flowerpecker, Russet Sparrow, Rufous Babbler, Black-headed jay, Scaly-breasted wren-babbler, Rufous sibia, Blue whistling thrush, Finches, Mountain hawk eagle, Black Eagle, Eurasian jay, White-rumped Needletail, Black-headed jay, Black-lored, Black-throated Tits, Black Bulbul, Ashy-throated Warblers, Black-chinned Babbler, Rufous-breasted Accentor, Red-Billed Blue Magpie, Grey-winged Blackbird, Common Buzzard, Black-chinned Babbler, Pink-browed Rosefinch, Common wood Pigeon, Slaty-Headed Parakeet, Laughingthrush, Chestnut-tailed Minla, Lemon-rumped Warblers, Cheer Pheasant, Upland Pipit and many more…
Itinerary
Stuff to Carry
What to Look for
Tour Leader
Accommodation
Cost
Includes/Excludes
Itinerary
Day: 1
Morning – Sattal Trail.
Evening – Bird Hide session in Sattal.
Expected Birds: (Fire Breasted Flowerpecker, Rufous Bellied NIltava, Red-Billed Leiothrix, Small Niltava, Rufous Gorgeted Flycatcher, Himalayan Bluetail)
Day: 2
Morning – Chanfi Birding
Evening – Chanfi session –
Expected Birds: Himalayan and Siberian Rubythroat, Yellow Belly Fantail, Bar-tailed Treecreeper, Brown Dipper, Crested Kingfisher, Little Forktail, Asian Barred Owlet
Day: 3
Morning – Pangot Birding 
Evening – Evening in Sattal Trail
Expected Birds: Koklass Pheasant, Cheer Pheasant, Alpine or Himalayan Accentor, Golden Bush Robin, Spot Winged Grosbeak, Scaly Thrush, Mistle Thrush, Long-Billed Thrush, Chestnut Thrush, Mountain Hawk Eagle, Black Eagle, Rufous Bellied Woodpecker, Himalayan Woodpecker, Scaly bellied Woodpecker
Day: 4
Morning: Ramgarh Region
Evening – Sattal Trail 
Expected Birds: Black Chinned Yuhina, Spotted and Slaty Backed Forktail, Aberrant Bush Warbler, Western Crowned Warbler and many more small birds
Day: 5
Morning and Evening: Shyamkhet
Expected Birds: Wedge-tailed Green Piegion, Gray-winged Bluebird, Yellow-Breasted Greenfinch, European Goldfinch 
Day: 6
Morning: Sattal Birding Trail
Expected Birds: Thrushes and Warbler, Collared Scops Owl, Green Tailed Sunbird
Head back to Hotel after this session and Drop to Kathgodam is scheduled around 13:00 hour
Stuff to Carry
What to Look for
Tour Leader
Accommodation
Cost
Includes/Excludes