BINSAR WILDLIFE SANCTUARY BIRD WATCHING
Watching birds in Kumaon Hills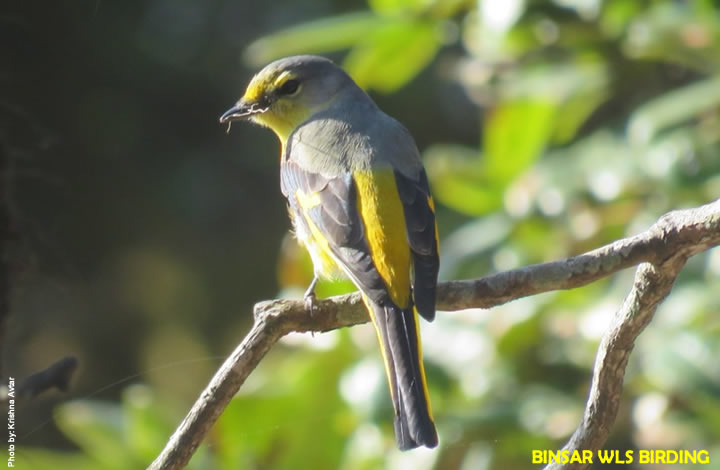 Binsar Wildlife Sanctuary (WLS) is situated about 30 km from Almora district. It covers an area of about 45 sq. km and has a core area of 4 sq. km. There are 32 villages in and around Binsar, which are dependent on forest resources. Also, there are five privately owned estates, of which three are on the periphery of the core zone. Binsar WLS represents the characteristic floral elements of moist temperate forest, with oak forests surrounded by Chir pine and agricultural land. The oak forest is more diverse than the pine. A total of 40 species of trees, 32 species of shrubs and ferns, 50 species of herbs and 19 species of grasses were identified by experts. About 166 species of birds have been recorded.
BIRDS OF ASAN CONSERVATION RESERVE
Common Hill Partridge,Chukar Partridge, Black Francolin, Kalij Pheasant,Koklass Pheasant, Wood Pigeon, Oriental Turtle Dove, Spotted Dove, Yellow footed Green Pigeon, Wedge-tailed Pigeon, Grey Nightjar, Large-tailed Nightjar, Fork-tailed Swift, Large Hawk Cuckoo, Indian Cuckoo, Common Cuckoo, Bearded Vulture, Egyptian Vulture, Crested Serpent Eagle, Red-headed Vulture, Fire-capped Tit Himalayan Vulture, Black Eagle, Tawny Eagle, Golden Eagle, Bonelli's Eagle, ,Shikra, Eurasian Sparrowhawk, Lesser Fish Eagle, Black Kite, Collared Owlet, Asian Barred Owlet, Brown Wood Owl, Common Hoopoe, Black-rumped Woodpecker, Greater Yellow-naped Woodpecker, Lesser Yellow-naped Woodpecker, Grey-headed Woodpecker, Scaly-bellied Woodpecker, Brown-fronted Woodpecker, Himalayan Woodpecker, Rufous-bellied Woodpecker, Great Barbet, Common Kingfisher, White-throated Kingfisher ,Black Francolin, Himalayan Woodpecker, Long-billed Thrush, Rusty-tailed Flycatcher, Fire-capped Tit, Rufous-Breasted Accentor, Vinaceous Rosefinch, Brown Bullfinch, White-tailed Nuthatch etc.
By road, Dehradun – Herbertpur (30Km)-Asan CR (8km). Coming from Paunta Sahib (Himachal), just take a drive of 7 km to reach the Asan.
Private Camps, Cottages, Homestays