KANATAL CHAMBA BIRDING PACKAGE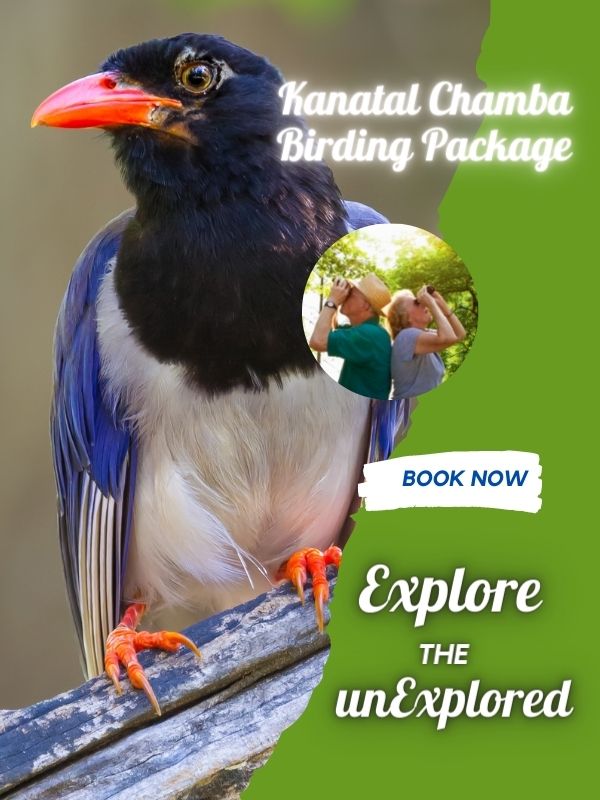 Kanatal offers a chance to stay close to nature and off the grid. The quaint hill station is surrounded by apple orchards and has several home-stays that offer organic food and a glimpse of the rustic life. Walk along narrow serpentine roads amidst fragrant pine, deodar and rhododendron forests, as you bond with nature. Variety of birds including Brown-fronted Woodpecker, Scaly-bellied Woodpecker, Gray-headed Woodpecker, Slaty-headed Parakeet, Black-headed Jay, Red-billed Blue-Magpie,Himalayan Bulbul,Hume's Warbler, Gray-hooded Warbler, Black-throated Tit, Rusty-cheeked Scimitar-Babbler etc found. The nature rich destination is in close proximity to major tourist destinations like Dehradun, Mussoorie, Chamba, and Rishikesh, which makes Kanatal the perfect weekend getaway for many tourists.
Available from 18th October 2023 to onwards
General Information
Itinerary
Stuff to Carry
What to Look for
Tour Leader
Accommodation
Tour Cost
General Information
Tour Name: Kanatal Chamba Birding Tour Package 
Duration:  5 Days / 4 Nights
Locations Covered: Nailbagi Village, Oak Forest Trail, Kaudia Forest, Bagicha Trail
The standard timing for each session will be:
Morning – 06:30- 10 hrs.
Evening – 15 – 18 hrs.
Between these sessions, the lunch and rest would be around stay place.
Spring, Summer, before and after winter is a great time to be here, as 10 types of woodpecker found here, hill Partidge, Red-billed blue magpie and Cheer pheasants are in good population. We also look for Owls.
Itinerary
Stuff to Carry
What to Look for
Tour Leader
Accommodation
Tour Cost
How many persons can go in this tour
The property has only 2 rooms so maximum 4-6 persons can accommodate on sharing basis. While we recommended 4 for comfortable stay.
The person must be fit to walk with trekking shoes (normal shoes not recommended) as the trails are hill trails, some where slippery.
Your luggage bag should not be like suitcase. It should be like rucksack (with straps) that can tied over mule or can be carry on shoulder.
For luggage transfer we offer the Mule facility to carry your luggage, yet still recommended to carry minimum luggage, as some of them (at least one bag with water bottle, laptop, camera, Tablet etc), guest has to carry themselves. Transferring such sophisticated items over mule may be broken, not advisable, and we are not responsible for any breakage .
Almost all mobile network works at Home stay with weak signal strength. Airtel has strong signal.
All basic amenities like neat and clean proper bedding, electricity, Hot and cold water, western toilet, Table, Chairs in room, open space to sit.
Expect summer every season, specially winters are quite cold. Carry your woollen item recommended.
As guest is staying with a family a gentleman behaviour is expected. Its not a hotel, its a home stay.
Timing is very important for the successful of your tour.