Devalsari-Jhilmil Jheel Conservation Reserve Birding Tour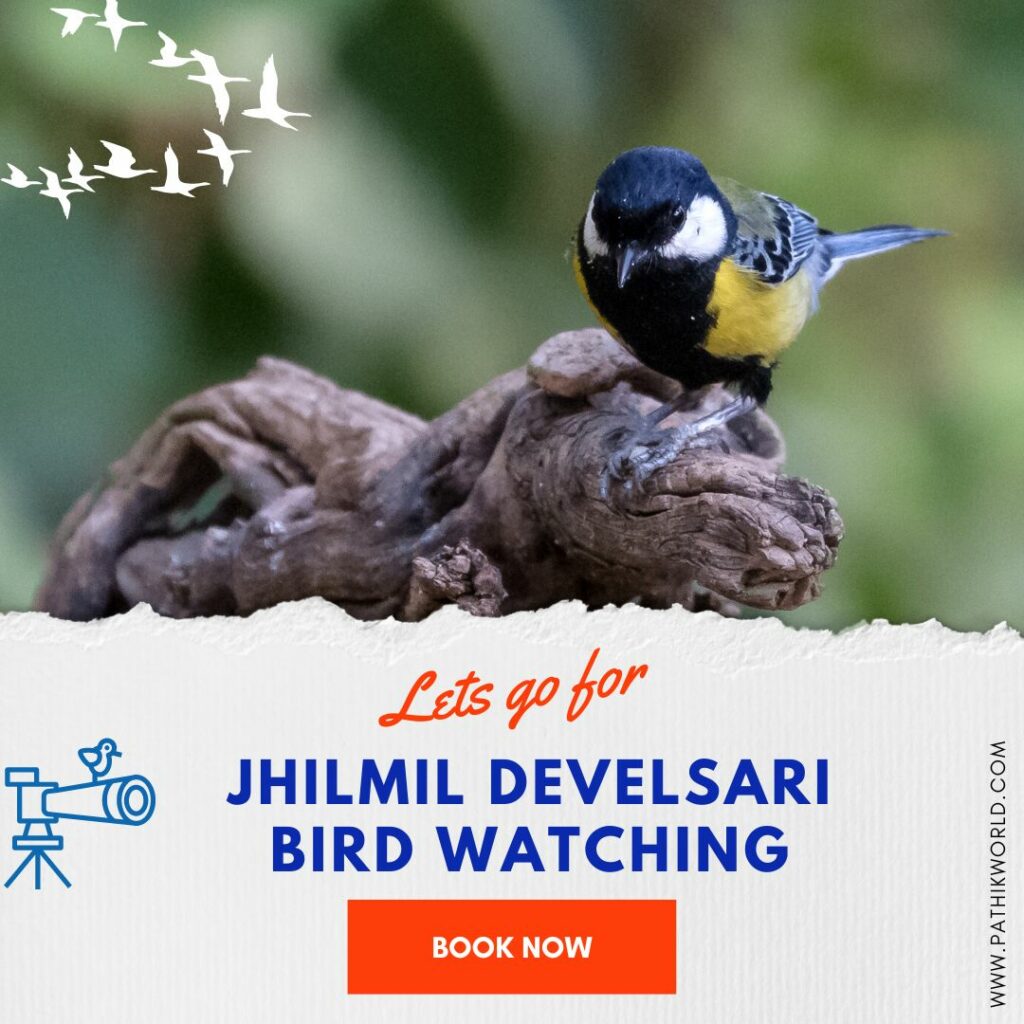 Duration: 6 Days / 5 Nights
Departures Dates: 11 October, 25th October 2023

Jhilmil Jheel Conservation Reserve (JJCR), about 20 minutes drive from Haridwar, is renowned for swamp deer and the great diversity of birds. In the last few months, researchers have noticed about 120 bird species. At sunset, as the birds return to roost, there is a chorus of bird calls. There are threatened species too roosting here – the bristled grassbird, for instance, and species of vultures.
Devalsari - Watching birds in Aglar Vally of Himalaya
Devalsari Village (1,800 m) is the gateway to Nag Tibba (3,048 m) Trek. It is one of the four villages from where Nag Tibba trek can be initiated. Other villages are Pantwari, Manglori and Aunter. It is the heavenly gateway for those also who love to explore raw nature, birds this region and believe in isolated places. Passionate birder, trekker, explorers, writers, photographers can excel their skill in the peaceful and luring atmosphere of Devalsari. The changing terrain of Devalsari makes it a terrific birding destination.
Birds found in Devalsari
Collard Owlet, Hodson's treecreeper, Blue throuated barbet, Common lora, Khalij pheasent, Wedge tailed Pegion, Grey headed canary fly catcher, Golden Bush Robin, Spot-winged Grosbeak, Cinereous vulture, Chukar Partridge, Mountain Scops Owl, Rufous-chinned Laughingthrush, Black-Faced Warbler, Mrs. Gould's Sunbird, Fire-breasted Flowerpecker, Fire-fronted Serin, Blue Whistling Thrush, Slaty headed Parakeets, Red-billed blue magpie, 100s of birds found here.
Many other rare birds like the paradise flycatcher, oriole, scarlet minivet, sunbird, crimson sunbird, leafbird, plum-headed and rose-ringed parakeet, oriental magpie robin, emerald dove, green pigeon, spot-billed duck, Asian open-bill, woolly-necked stork, four species of kingfisher and many species of ducks are in plenty in this reserve.
It is still unexplored birding area of Himalaya and new destination for birders those wish to explore the new birding area.
Birds found in Jhilmil Jheel CR
Oriental pied hornbill, paradise flycatcher, oriole, scarlet minivet, sunbird, crimson sunbird, leafbird, plum-headed and rose-ringed parakeet, oriental magpie robin, emerald dove, green pigeon, spot-billed duck, Asian open-bill, woolly-necked stork, four species of kingfisher and many species of ducks. Know more…
Itinerary
Price
Included
Excluded
Itinerary
Day 1 :
9:00 am: Pickup from Dehradun and drive to Devalsari

12:00 pm: Arrive at Devalsari, welcome drink, lunch,

Evening birding around village

Overnight Stay at Home Stay
Day 2 :
Morning Birding on Trail 1

Evening Birding on Trail 2
Day 3 :
Morning Birding on Trail 3

Evening Birding on Trail 4
Day 4 :
After Breakfast, Checkout by 9 am

Drive to Jhilmil Jheel Conservation Reserve, Haridwar

1:00 pm Arrive at Jhilmil Jheel Reserve, welcome drink, lunch,

Evening birding around village

 

Overnight Stay at Home Stay
Day 5 :
Morning Wetland and around forest Birding (Use of Gypsy)

Evening River side birding (Use of Gypsy)
Day 6 :
Morning Birding and check out by 10 am
Price
Included
Excluded