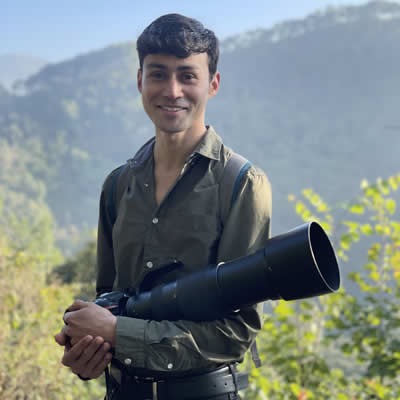 Neer has travelled extensively all over Uttarakhand and Western Himalayas, leading tours to numerous places from Terai regions to higher altitudes in Uttarakhand. Having seen over 700 species in the Uttarakhand Province itself.
Neer has grown up with a lifelong interest in wildlife, which evolved into a particular fascination with birds. Raised in Mountains, Neer started Birding as a hobby which later converted into his Bird Guiding skill later. With 7 years of experience in Sattal and Uttarakhand Birding and Guiding, he is always prepared to provide the best sightings in the field. Spending time with the guest and exploring their passion through the conversation is his favourite. 
Neer (a.k.a Neerdiv Bankoti) is equally experienced in the village and cultural tours in Uttarakhand, in these Himalayas to travel for culture and Spiritual, he finds his passion growing. Today he is also connected to Sattal Conservation Club and working in Uttarakhand towards Sustainable accommodations and Eco-Tourism.